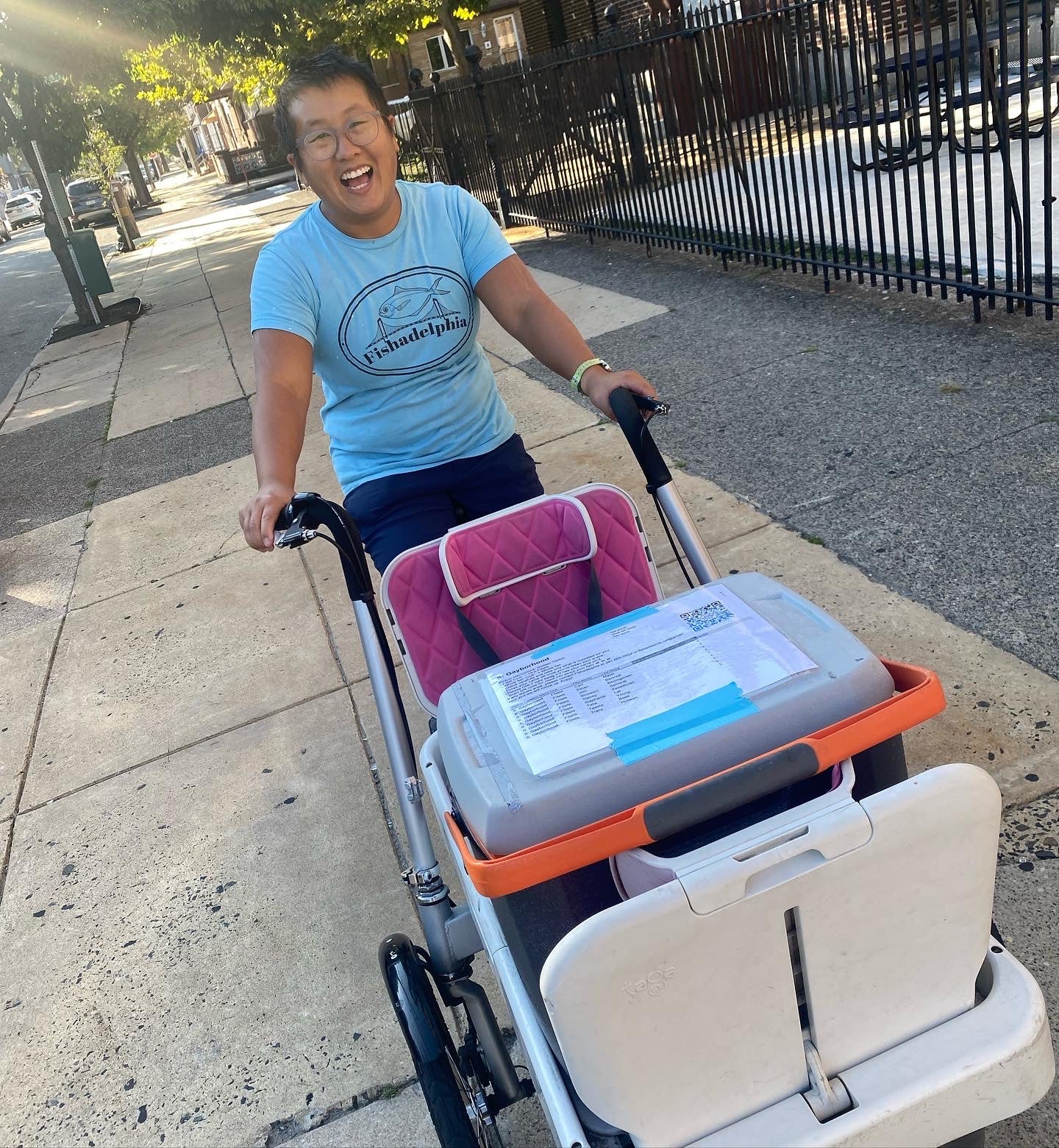 Price Changes for Our Upcoming Season
Dear beloved Fishadelphians,
I'm excited (and scared, but more on that in a moment) to announce that we are lowering our prices for the fall!
| | | |
| --- | --- | --- |
| Tier | New price | Old price |
| Neighbor Share | free | free |
| Community Rate |  $12 | $12.50 |
| Market Rate | $24 | $30 |
| Supporter Rate | $36 | $45 |
| Sustainer Rate | $48 | $60 |
You might remember that we actually raised prices last year–how are we now lowering them, and to even lower than before?
We heard feedback from so many people, folks who had to stop their memberships, or people who couldn't bring themselves to sign up: "your prices were too high". Accessibility is core to our mission, and if our seafood is too expensive for most people to afford it, then we are not succeeding. So we decided to lower our price point back down to one that fits with our community and the people that we most want to serve.
Let's be clear though: our costs have not gone down. The costs to pay everyone in our supply chain equitable, living wages all remain the same or higher. Furthermore, we stand by the quality of our seafood and community-based work that we do (such as our youth program, and aid work) as absolutely worth the higher prices of the past year. Fresh, sustainable, ethical seafood is not cheap.

Read more about "Where our money goes"
So this is the part that's scary and vulnerable. We're lowering our prices to make our Seafood Club more accessible, but we don't know how we'll make this work. Even at the higher prices, we weren't profitable. In the past, we received grants allowing us to operate at a loss, but we can't expect these sources to help us fill our budget gap indefinitely. While lowering our prices feels right, it means we're currently facing an even bigger climb to financial stability.
To sustain this price, we are going to need your help. 
Most importantly, stay in community with us!

Get (or continue) a Seafood Club Membership

Attend one of our events,

Tell us about how Fishadelphia is working (or not) in your life. We are going to continue to hone our business model (look for more membership changes coming soon), and would love your participation and feedback.

And very importantly, we need to grow our community–tell all your friends about us!
While I don't know exactly how it's going to come together, I do believe that our mission of community-oriented fresh seafood is possible. Thank you so much for your part in this process. We wouldn't be able to do it without you. We're excited to keep learning, growing, and bringing delicious seafood to Philadelphia, now at lower prices!
In community,
Talia
Some details for current Seafood Club Members
We will be offering gift cards equivalent to a refund for pickups that you may have prepaid at the higher price point. (Eg. If you paid at Market Rate and have 10 prepaid pickups remaining: the difference between the old price and new price is $6 per pickup, so we will offer you a gift card for 10 x $6 = $60.) Keep an eye on your email for more about this soon.

We encourage anyone who is able to continue paying at a higher rate to consider setting up a recurring donation for the difference in price.


Questions? Send us a message at hello@fishadelphia.com or give us a call (267) 666-0924.