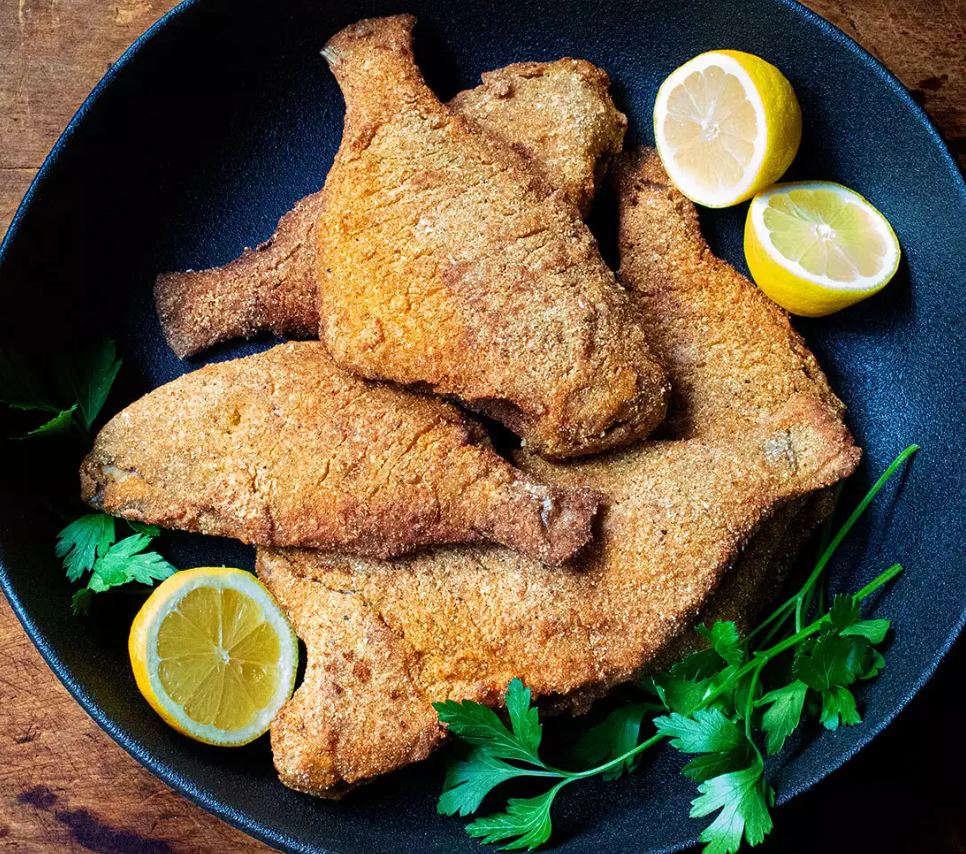 Fried Whole Porgy
by Jessica B. Harris on Eating Well
Ingredients
Porgies, cleaned with guts, heads, and fins removed

Lemon juice

Canola oil for frying

1 tsp seafood seasoning (old bay)

1 cup yellow cornmeal

½ cup all-purpose flour

½ teaspoon salt, or to taste

½ teaspoon ground pepper, or to taste

1 cup buttermilk
Instructions
Place fish in a large nonreactive bowl; sprinkle with lemon juice. Cover and let stand while you heat the oil and prepare the coating.

Pour oil to a depth of about 1 inch in a deep cast-iron skillet and clip on a candy thermometer; heat the oil over medium-high heat to 350 degrees F. While the oil is heating, pulverize seafood seasoning to a fine powder in a spice grinder or mortar and pestle. Transfer to a brown paper bag. Add cornmeal, flour, salt and pepper; shake to combine.

Place buttermilk in a shallow dish. Working with a few fish at a time, add them to the bag with the cornmeal mixture; shake well to coat evenly. Next, dip the fish in the buttermilk to coat them all over, gently shaking off any excess. Return the fish to the bag; shake well to coat evenly again. Slide the coated fish into the hot oil, being careful not to crowd them in the pan. Fry, turning once, until golden brown, 2 to 3 minutes on each side. Transfer to a paper-towel-lined plate to drain, then place on a warmed platter. Repeat the coating and frying process until all the fish are cooked. Serve immediately.