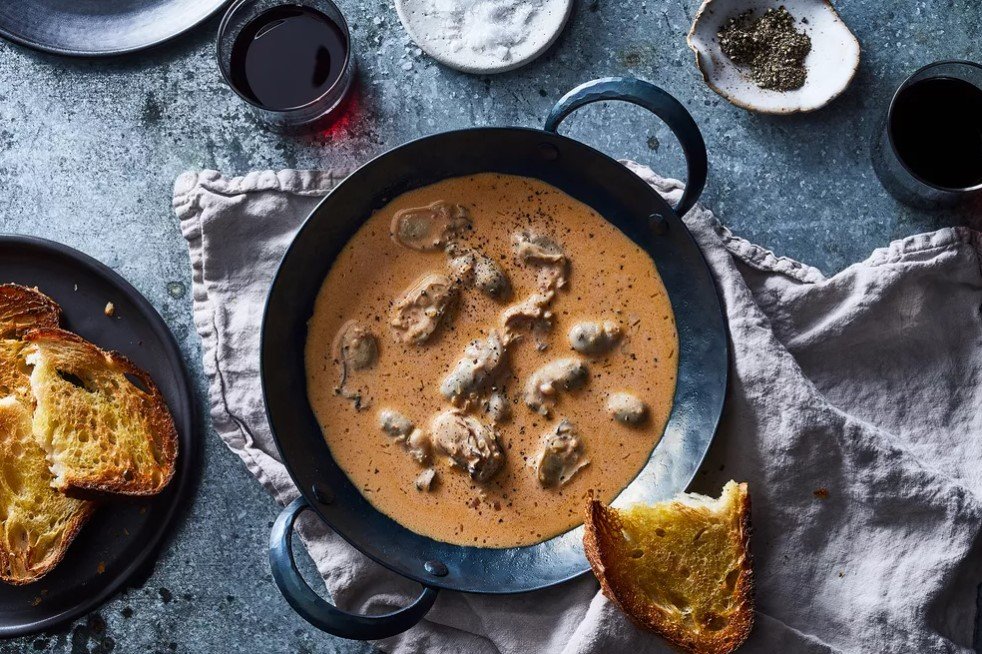 Oyster Pan Roast
By Omi 
This recipe was created by Chef Jerome Grant, the inaugural Executive Chef of Sweet Home Café in the African American History Museum is Washington D.C., and current chef of D.C. restaurant, Jackie. Grant started developing his cooking chops as a young person, learning how to cook Filipino cuisine from his mother. He also has ties to Philadelphia, spending summers with his paternal grandparents in Philadelphia. His Caribbean-influenced flavors are attributed to his father's Jamaican heritage. Grant's oyster pan recipe is a tribute to Thomas Downing, a Black oysterman and abolitionist from Virginia who lived in New York City. To learn more about Downing, Chef Grant, and this week's recipe, head to the Food52 website. For more information about Black oyster culture, check out this article by Thrillist.
Ingredients
2 tablespoons unsalted butter, plus more as needed

12 oysters, shucked and liquor reserved

1 tablespoon finely minced shallot

1/3 cup (80 ml) dry white wine

1 tablespoon Worcestershire sauce

2 teaspoons Tabasco sauce

2 tablespoons chili sauce (like Heinz)

1/2 cup (120 ml) heavy cream

Salt, to taste
Instructions
In a sauté pan over medium-high heat, melt 1 tablespoon of the butter. Add the oysters and sauté until the oysters begin to plump up on both sides and are halfway cooked, about 2 minutes each side. Pull the oysters out of the pan and set aside.

Using the same pan and adding more butter if needed, sweat the shallot until translucent, about 5 minutes. Add the white wine and stir to deglaze the pan. Simmer to reduce the liquid by half, about 2 minutes.

Add the oyster liquor, Worcestershire sauce, Tabasco, chili sauce, and cream. Bring to a simmer and let the sauce reduce by half, about 5 minutes.

Add the oysters to the sauce and remove the pan from the heat (the oysters will finish cooking in the hot sauce). Stir in the remaining 1 tablespoon butter and season with salt as needed. Serve right away.