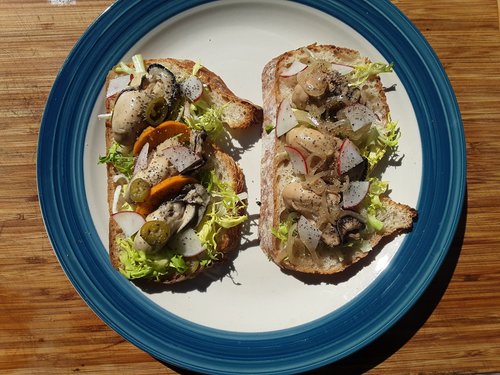 Pickled Oysters
By Elizabeth Bjornskov, "The Complete Book of American Fish and Shellfish Cookery"
Ingredients
4 dozen oysters, shucked with the liquor saved

Salt

1/4 cup vinegar

1/2 cup dry white wine

2 teaspoons scraped or grated onion

1 small clove garlic

1/4 teaspoon allspice

6 whole black peppercorns

1/2-inch piece cinnamon stick

1 clove

Small sprig fresh fennel leaves
Instructions: 
Add enough water to oyster liquor to make 1.5 cups. Pour into a saucepan, add a little salt, bring to a summer, then add oysters. Cook just under a simmer until oysters plump and the edges curl. Remove oysters to a nonmetal bowl to cool.

To the oyster liquor add vinegar, wine, garlic, allspice, peppercorns, cinnamon, and clove. Simmer in pot for 10 minutes and let cool.

Add a few fennel leaves to the oysters, pour in cool sauce, cover, refrigerate, and let the flavors blend. In 48 hours they will be ready to eat. Eat these babies as a snack or appetizer, place them on top of toast, or serve them on salad. They pair well with beer, or you can experiment serving them with cocktails. If you seal them in a jar and refrigerate, they will keep for up to 2 weeks.