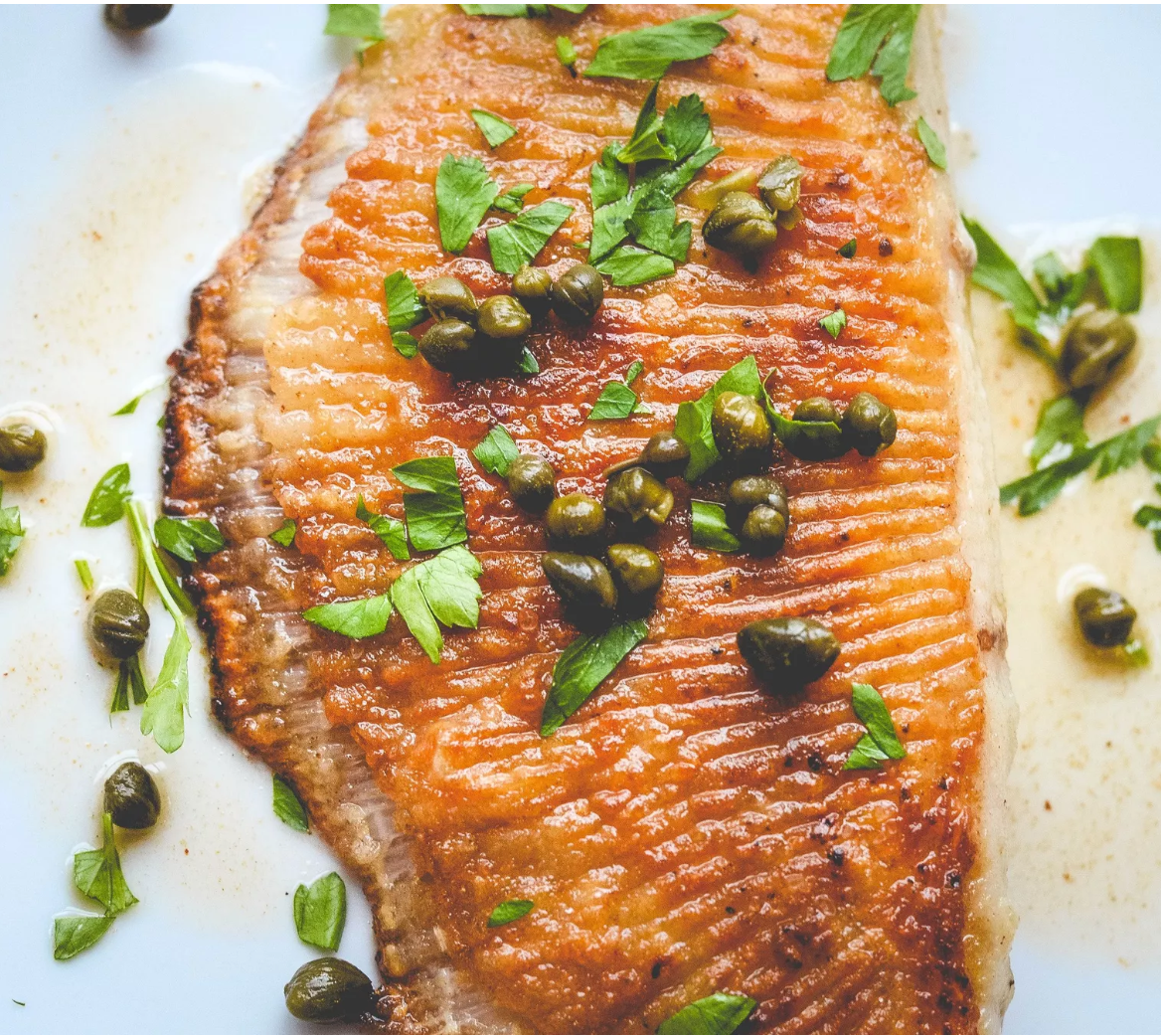 Skate Meunière
Ingredients
2

 

skate wings, deboned
all purpose flour, for dredging

1-2

 

tablespoons

 

canola oil

2

 

tablespoons

 

butter

1

 

tablespoon

 

lemon juice

1

 

tablespoon

 

finely chopped parsley

1

 

teaspoon

 

capers

1

 

pinch

 

salt

1

 

pinch

 

pepper
Instructions
Dry and season the skate on both sides. Dredge lightly in flour and tap off excess. Set a pan (anything but nonstick) on high heat. Walk away for a bit. go to the bathroom. Then put the oil in, just enough to cover the bottom of the pan and swirl with some movement (why don't i give you an exact amount? The size of the pan you're using will change the amount. I used about 2 tbsp for a 10 inch saute pan). Walk away again. Let the oil get hot. You want to see it start to smoke. Don't worry, it won't catch on fire (Canola's smoke point is 400 degrees fahrenheit. Its flash point is considerably higher.) We want this pan to be killer hot so that when the fish touches the pan, the proteins cook as soon as it hits the oil but before it touches the metal surface of the pan. This causes the meat proteins to curl in on each other instead of outwardly, where they would then cause the fish to stick.

Let the fish saute for several minutes over medium high until you see a nice crisp golden-brown exterior. using a spatula or peltex (fish turner), flip to the other side and repeat. Once brown on either side, remove and rest on paper towels to blot oil.

Pour off any excess oil from the pan and reduce heat to medium. Add the butter and stir in pan until butter browns and smells nutty.

Immediately remove from heat and add lemon juice, parsley, and capers. This sauce will break, that's normal. Spoon over fish and serve.