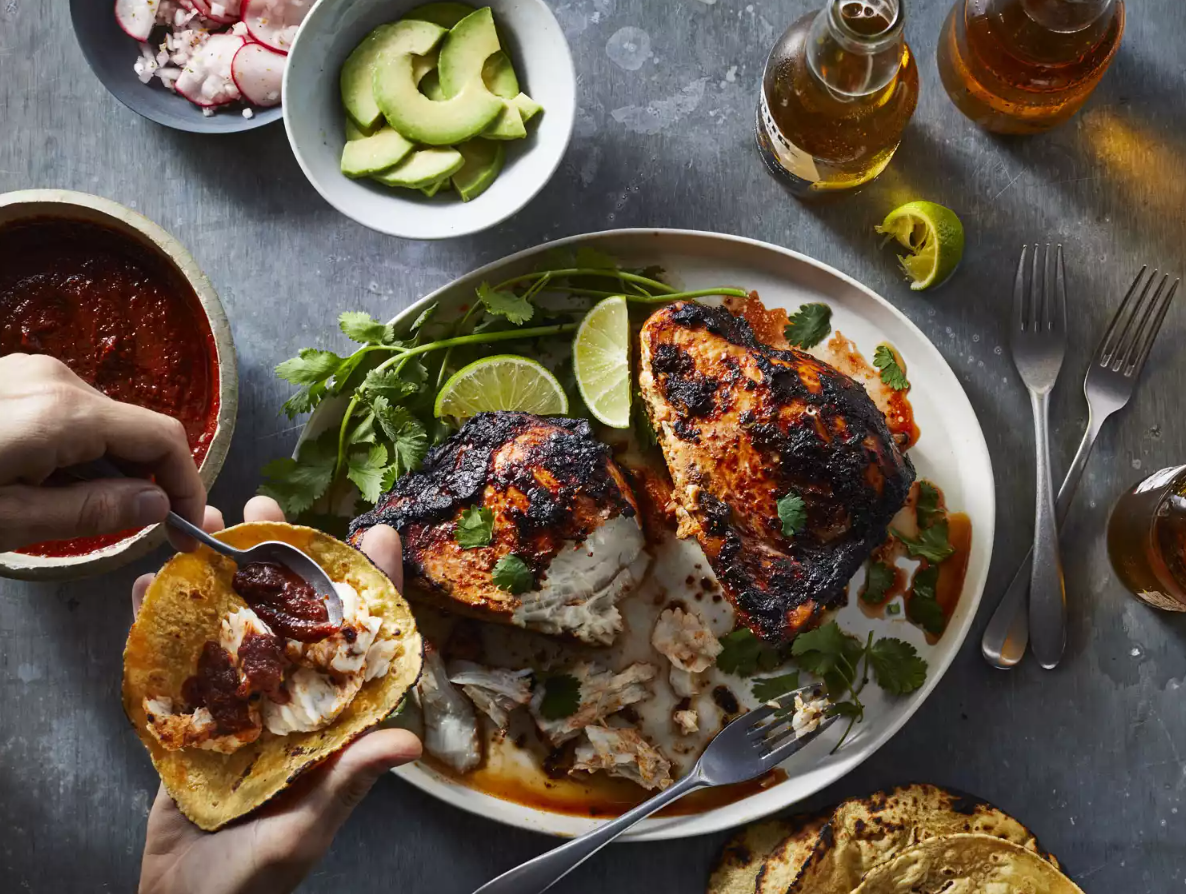 Slow-Roasted Swordfish Birria
Ingredients
For the Adobo
2 dried ancho chiles, stems removed (about 1 ounce)
3 dried guajillo chiles, stems removed (about 3/4 ounce)
4 dried cascabel chiles, stems removed (1/4 ounce)
1/2 cup chopped white onion
1/4 cup apple cider vinegar
1 tablespoon cumin seeds
1 tablespoon kosher salt
10 black peppercorns
4 large garlic cloves
4 whole cloves
For the Fish
2 pounds (1-inch-thick) skinless swordfish fillets

1 1/2 teaspoons kosher salt
2 tablespoons extra-virgin olive oil
For the Salsa
1 (14.5-ounce) can diced fire-roasted tomatoes, drained
1 teaspoon kosher salt
Additional Ingredients
1/2 cup finely chopped white onion
2 radishes, thinly sliced
Juice of 2 Key limes (about 1 1/2 tablespoons)
1/2 teaspoon dried oregano
Kosher salt
1 large avocado, sliced
Fresh corn tortillas, warmed, for serving
Instructions
Make the adobo
Using a paring knife, cut a slit down the side of each chile. Open each chile, and remove and discard veins and seeds. Heat a large comal or cast-iron skillet over medium. Add chiles, and cook until fragrant and chiles begin to darken, about 30 seconds per side. Remove chiles from pan; set aside.

Combine toasted chiles, onion, vinegar, cumin seeds, salt, peppercorns, garlic, and cloves in a blender, and puree until a smooth paste forms. If paste is too thick, add water to thin to desired consistency (I use about 6 tablespoons water to 1 cup adobo).
Make the fish
Preheat oven to 300°F. Season fish with salt. Spread 3/4 cup adobo over fish to completely coat fillets. Line a medium baking dish with parchment paper. Add fish, and drizzle with oil. Roast in preheated oven on middle rack until flesh is opaque throughout and flakes easily with a fork and a thermometer inserted in center of fillet registers 135°F, about 30 minutes. Let fish rest 10 minutes.
Make the salsa
In the same blender, add tomatoes, salt, and 1/4 cup adobo. Process until smooth.
Make the toppings
Toss together onion, radishes, lime juice, and oregano in a small bowl until combined. Season with salt to taste. Serve fish with onion mixture, avocado, salsa, and hot, fresh tortillas.