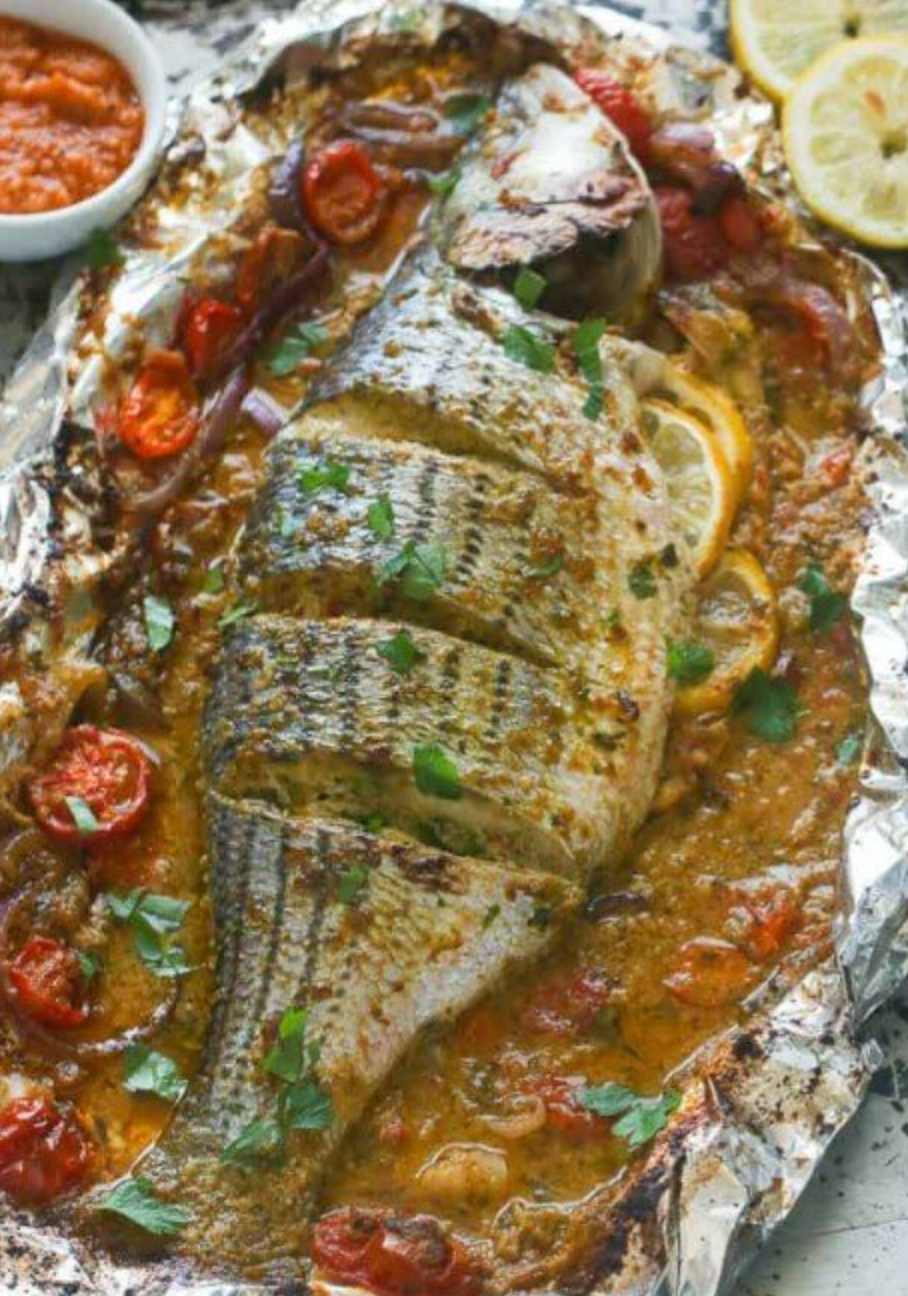 Whole Baked Sea Bass
Ingredients
2 white fish (sea bass, red snapper, or tilapia) , approximately 1-2 pounds; scaled and gutted white fish

1 lemon (or limes if that's what's available)

salt and pepper to season

½ bunch parsley

1 small onion , sliced and divided

½ bunch basil

1 small tomato

4-5 garlic cloves

1 tablespoon chicken bouillon or cubes , optional

½ -1 cup water or oil

1-2 cups cherry tomatoes
Instructions
Make 3-4 diagonal cuts in each side of the fish, all the way right through the bone. Squeeze some lemon over it. Season fish with salt and pepper. Set aside.

Chop parsley, onion (½ sliced onion), basil, tomato, and garlic. Add to a food processor or blender. Blend/pulse while adding oil/water as needed until the ingredients are in puree form. If desired, add chicken bouillon to the puree, thoroughly mix.

Pour the marinade over the fish, and gently flip them back and forth until coated inside and out. Let it marinate in the fridge for up to 24 hours.

Use a cooking spray to oil the bottom of a roasting pan to prevent fish from sticking to the pan. Drizzle 2 tablespoons of water or oil on the fish and throw in the cherry tomatoes and the rest of the onion slices.

Bake in a roasting pan (leave it open) at 450 F (232 C) for approximately 15-20 minutes, depending on the thickness of your fish.

Serve warm with plantains or potatoes and this African Pepper Sauce HERE.