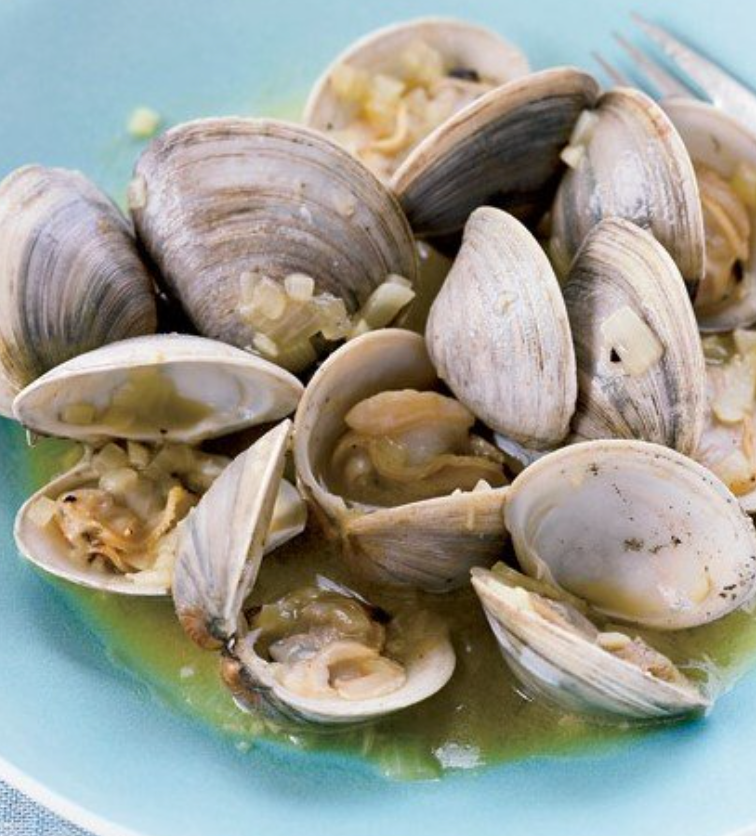 Clams The Sailors Way
From: Food and Wine, found and edited by Feini
Total Cook Time: 25 Minutes
Servings: 4
Ingredients
Pinch of saffron threads (Don't have saffron threads? Leave 'em out!)

3/4 cup fish stock or bottled clam juice (or any stock you have on hand)

3 tablespoons extra-virgin olive oil

3 garlic cloves, minced

1 small onion, finely diced

1 1/2 tablespoons all-purpose flour

1/2 cup Albariño or other dry white wine

3 dozen littleneck clams, scrubbed

Salt and freshly ground pepper

Crusty bread, for serving
Instructions
In a glass measuring cup, crumble the saffron threads into the fish stock and let stand for 10 minutes.

In a large pot, heat the olive oil. Add the minced garlic and diced onion and cook over moderately high heat, stirring, until the vegetables are softened, about 4 minutes. Stir in the flour until incorporated. Add the saffron-infused fish stock and Albariño and bring to a simmer, stirring, until thickened. Add the clams, cover and cook, shaking the pot, until the clams open, about 6 minutes. Discard any clams that do not open. Spoon the clams into bowls. Season the Albariño sauce with salt and pepper, pour it over the clams and serve them with crusty bread.
Suggested Pairing
Albariño's seashell-like minerality is perfect with clams' natural brininess. Choose an Albariño that's delicious but also affordable, so you can both cook with it and drink it.