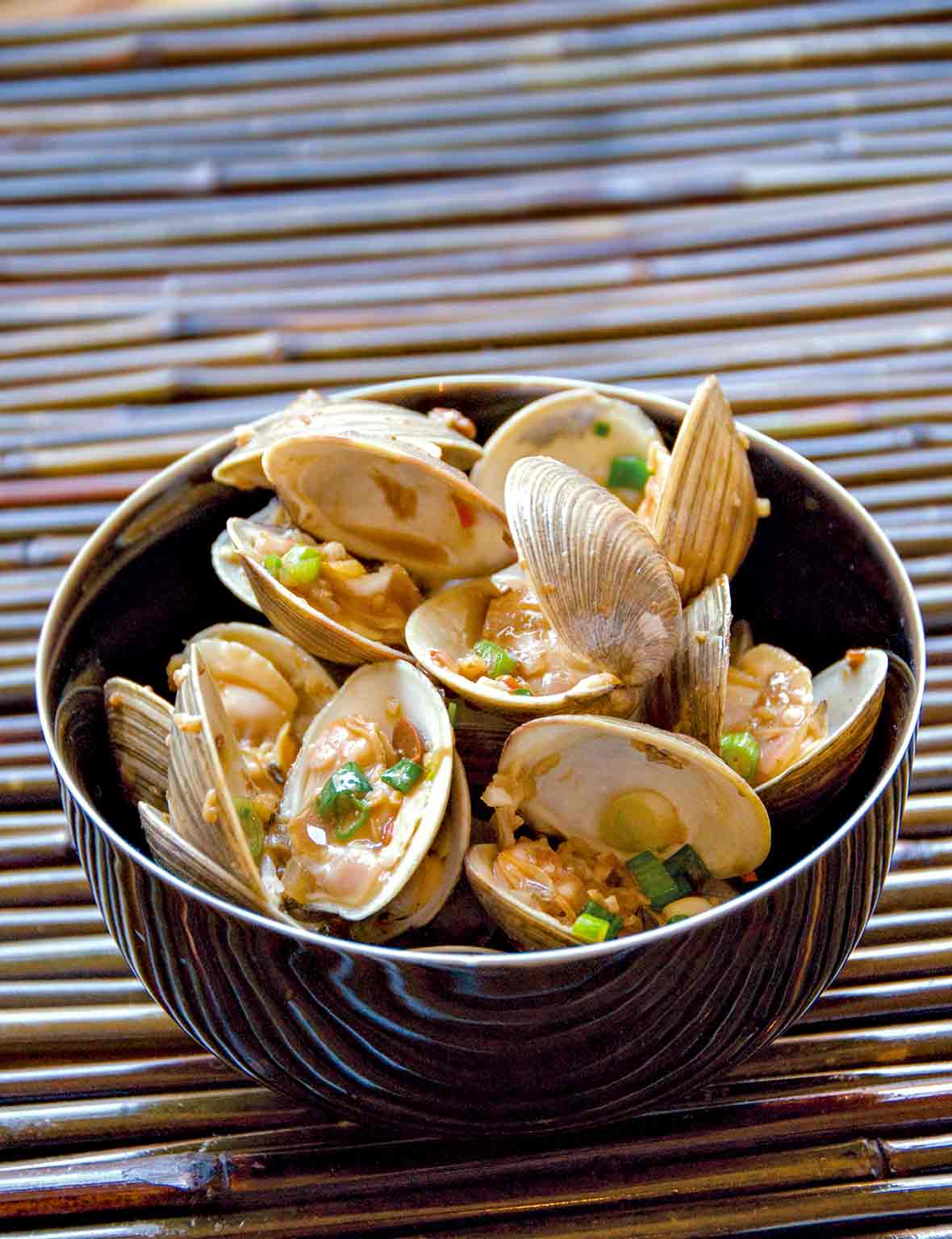 Stir-Fried Clams
by Leite Culinaria Editors, edited by Ya Fang Qian
Ingredients: 
1 ½ dozen littleneck clams

⅓ cup canned chicken broth or homemade chicken stock or clam juice

1 tablespoon jarred Asian bean sauce

1 teaspoon soy sauce

2 tablespoons peanut or vegetable oil

1 tablespoons chopped shallots

2 teaspoons minced garlic

2 teaspoons minced peeled ginger

¼ teaspoon minced Thai chile pepper, with seeds,or ¼ teaspoon red pepper flakes 

¼ cup chopped scallions 
Instructions: 
Clean the clams:

Thoroughly rinse the clams in several changes of cold water, discarding any open clams. Scrub the shells with a stiff brush to remove grit and rinse well. Drain the clams in a colander, shaking out the excess water and pat dry with paper towels.

Mix the sauce:

In a small bowl combine the broth, bean sauce, and soy sauce.

Heat the wok and stir-fry the aromatics: Set a 14-inch (35-cm) flat-bottomed wok or 12-inch (30-cm) skillet over high heat until a bead of water vaporizes within 1 to 2 seconds of contact, about 30 seconds. Carefully swirl in the oil, then add the shallots, garlic, and ginger and stir-fry until fragrant, about 30 seconds.

Stir-fry the clams:

Add the clams and stir-fry for 1 minute. Sprinkle in the chile or pepper flakes and stir-fry until well combined, about 30 seconds. Swirl the broth mixture into the wok, cover, and cook for 4 minutes, stirring every minute.

Reduce the sauce:

Uncover and stir-fry until the shells are fully open, about 1 minute more. Transfer any opened clams to a platter and continue stir-frying, uncovered, over high heat until all the shells have opened and the broth mixture has reduced to a saucy consistency, 1 to 2 minutes. Discard any unopened clams.
Garnish and serve the clams: Stir in the scallions and pour the sauce over the clams.
Photo: Steven Needham