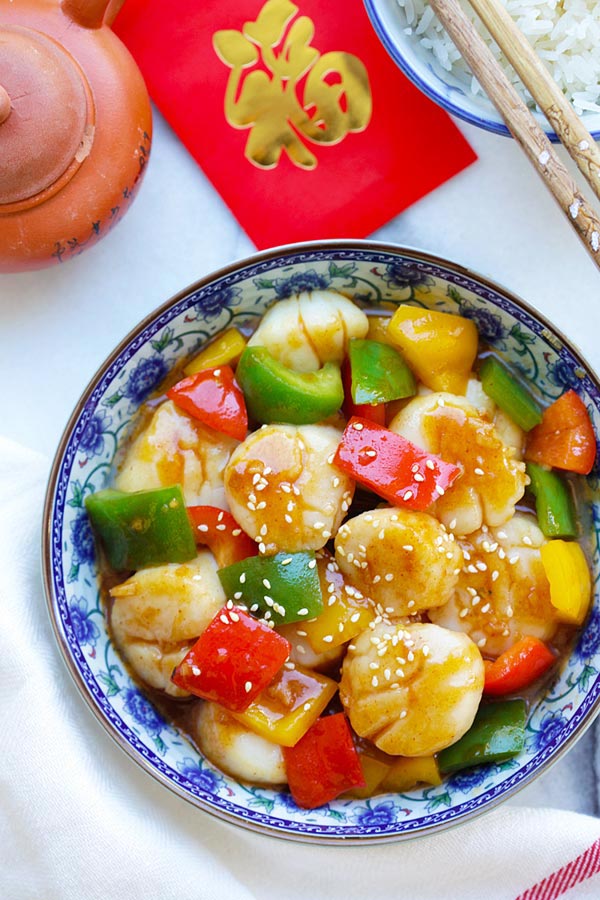 Szechuan Scallops
Ingredients
12 oz. (340 g) scallops

Water for boiling

2 tablespoons oil

2 cloves garlic, minced

2 oz. (56 g) red bell pepper, cut into pieces

2 oz. (56 g) yellow pepper, cut into pieces

2 oz. (56 g) green pepper, cut into pieces

White sesame for garnishing
Sauce Ingredients
2 tablespoons San-J Szechuan Sauce

1 ½ teaspoons sugar

2 tablespoons water

½ teaspoon corn starch
Instructions
Bring a pot of water to boil. Cook the scallops for 30 seconds. Remove the scallops from the boiling water with a strainer. Drained and set aside.

Mix all the ingredients of the Sauce in a small bowl. Mix well.

Heat up a wok or skillet with the oil. Add the garlic and stir-fry until aromatic. Add in the bell peppers, stir fry until you smell the aromas of the bell peppers. Transfer the scallops into the wok or skillet, stir to combine well with the bell peppers.

Add in the sauce mixture and continue to stir-fry the scallops. As soon as the sauce thickens, turn off the heat. Transfer the scallops to a serving platter and garnish with the white sesame. Serve immediately with steamed rice.
Photo: Rasa Malaysia